Big start to the Chesapeake Sailing Season
by Tony Veneziano 25 Apr 08:33 PDT
April 30 – May 2, 2021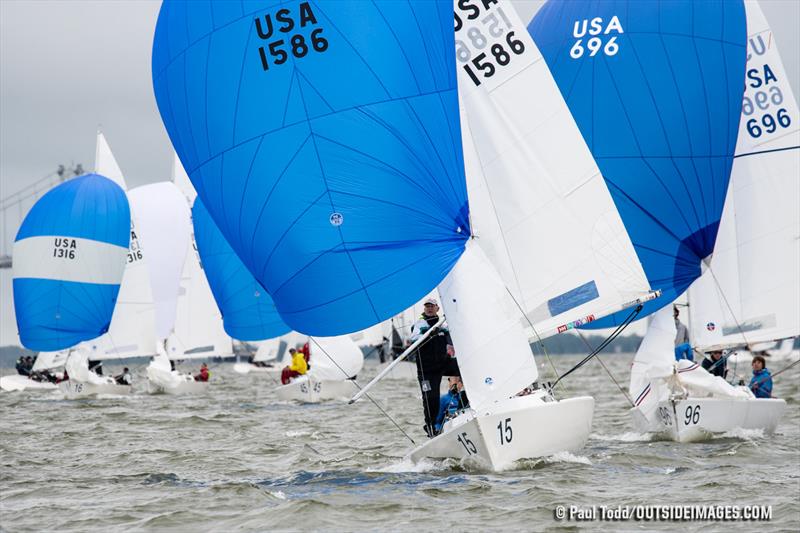 2019 Helly Hansen NOOD Regatta Annapolis © Paul Todd / Outside Images

The Helly Hansen NOOD Regatta national sailing series returns to Annapolis, April 30 to May 2, for its 33rd edition, with more than 160 teams expected to race in boats ranging from 20 to 40 feet. The annual spring regatta, which is considered the premiere local sailing event of the year, also serves as the unofficial kickoff for the robust and thriving Annapolis sailing scene.

"What I'm hearing is that a lot of sailors have been using the downtime of the pandemic to work on and improve their boats while also going to school with webinars all winter long. They're keen to apply all that learning to the racecourse for real," says Dave Reed, Sailing World Magazine, which co-hosts the event with Annapolis Yacht Club and other area yacht clubs. "After a year of so many regatta cancellations, sailors are ready to get back to racing in a big way. The Annapolis NOOD has always been an amazing event, and this year will be no different."

The Helly Hansen NOOD Regatta series is the largest national sailing circuit, with Annapolis serving as the third event of five, along with regattas in St. Petersburg, Florida, San Diego, Chicago, and Marblehead, Massachusetts. At each regatta, one team is selected as the overall winner, earning a berth at the championship in the British Virgin Islands in late October.

With such national prestige and a reputation for its professional race management, the Annapolis NOOD continues to be a major draw for competitors from all points of the Chesapeake Bay and afar. This will be especially true in late April as competitors registered in two of the regatta's largest classes will be using the event to train for major class championships later in the year. The J/70 class (22-foot/four-person raceboat), for example, will host its North American Championship in early May in Annapolis and its world championship in California in August, so organizers expect a high number of professional sailing teams will be in attendance, training and studying the venue's challenging winds and tides. In addition, the J/111 class (36-foot/seven crew) will host its North American Championship at the NOOD.

"We're especially excited this year," says competitor Bill Carruth, who races with his wife, Linsley, in the J/105 class," which will have its North American Championship in Annapolis in October. Their NOOD fleet could have as many as 30 of these 35-footers. "It is a blast to have so many J/105s on the starting line," Carruth says. "These are good sailors and they know the rules, so we tend to be aggressive, which makes it's entertaining and exciting."

In all, 11 classes will compete over three days, on racecourses set on the waters south of Bay Bridge and immediately outside Annapolis Harbor and the U.S. Naval Academy, which will also field teams across a few classes. Regatta organizers have also added a new competition with the North Sails Doublehanded Distance Race where two-person teams will one day-long endurance race on Saturday, May 1, starting and finishing at entrance of the Harbor.

For more information on Helly Hansen NOOD Regatta events, visit www.sailingworld.com/tags/helly-hansen-nood-regattas.

For comprehensive results, visit yachtscoring.com.