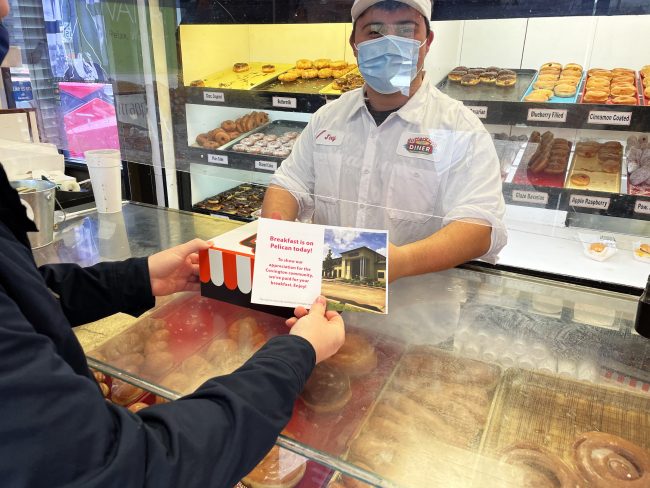 A customer receives breakfast and a Pelican State Credit Union flier from a Butter Krisp Diner staff member in Covington, La. The $524 million, Baton Rouge, La.-based Pelican State CU hosted a surprise "Pelican Pays it Forward" takeover at Butter Krisp Diner on Dec. 14. To show its appreciation for the Covington community, the credit union paid for $2,000 worth of breakfast for guests who visited the restaurant located at 1105 Business 190 in Covington from 6:00 a.m. to 11:00 a.m. The event was a complete surprise, as customers did not find out that their breakfast was going to be free until after they placed their order. Instead of receiving their bill, each customer was given a flier from the Butter Krisp Diner staff informing them that their breakfast had been paid for. The flier also highlighted Pelican's Covington branch as well as all the benefits that come with being a Pelican member.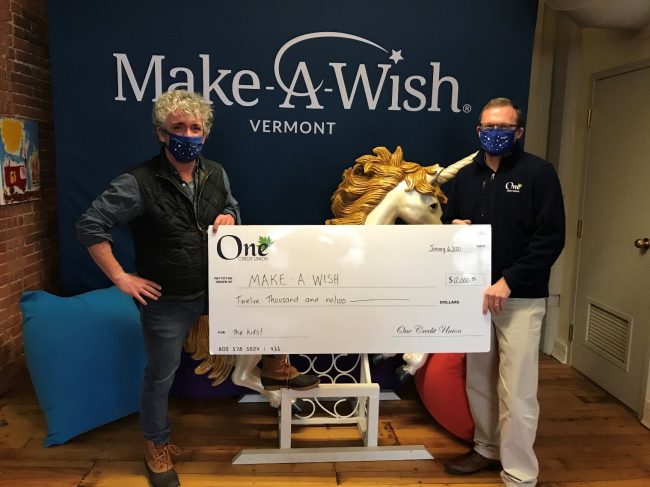 Kevin DeRosa (right), retail manager for the $201.7 million, Springfield, Vt.-based One Credit Union, presents Jamie Hathaway, president/CEO for Make-A-Wish Vermont, with a check for $12,000 on Jan. 6. This money was raised as part of a year-long effort in 2020 with the help of One CU members and staff in its local communities. Each year, One CU raises money for Make-A-Wish at community and branch events, as well as through donations made by employees directly through payroll. While One CU was not able to have as many in-branch events due to the pandemic, many members still contributed online and employees continued donating throughout the year. One CU matched every donation given, dollar for dollar, bringing the total to $12,000. The Vermont chapter received $10,300 and the New Hampshire chapter received $1,700.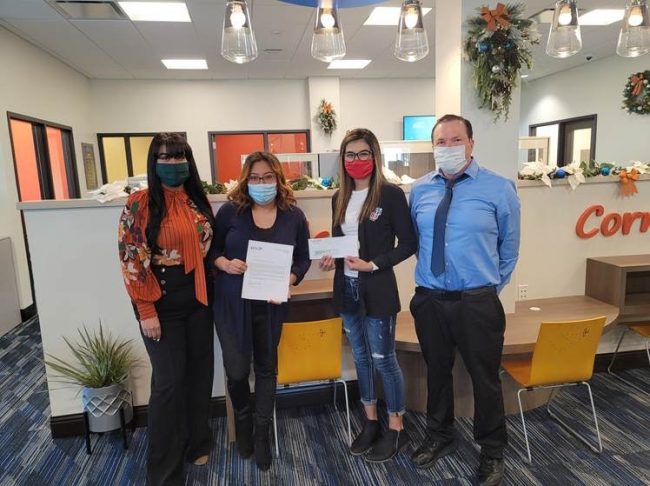 The $211.4 million, Elko, Nev.-based Elko Federal Credit Union stepped up its charitable giving through the month of December, donating a total of $30,000 to local organizations working hard to do good in the community. To help families in crisis, EFCU donated $6,000 each to Harbor House, which assists those affected by domestic violence in northern Nevada, and F.I.S.H. (Friends In Service Helping) in Elko, which provides emergency shelter, food and clothing to those experiencing homelessness and offers refurbished items for sale at reduced prices for needy families. EFCU also provided $12,000 in donations to support education, giving $5,800 to Communities in Schools Nevada and $6,200 to Head Start of Northeastern Nevada. The credit union also provided $6,000 to Horizon Hospice in Elko to help the organization meet the increased demand for hospice care due to the pandemic. Pictured from left to right are Vanessa Marin of EFCU, Paola Archundia and Tyra Salas of Head Start, and John Kelly of EFCU.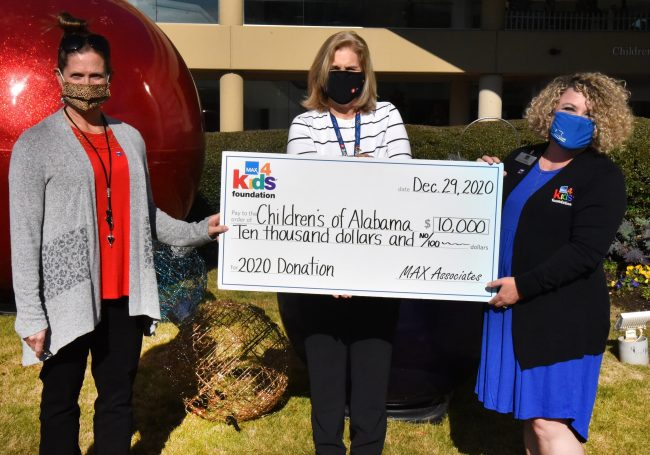 MAX4Kids Foundation representatives Jamie Brown (right) and Tonya Catrett (left), present a $10,000 donation to Emily Hornak (center) of Children's of Alabama. The MAX4Kids Foundation capped its 20th year of community support with a $10,000 donation to Children's of Alabama. With this donation, MAX4Kids has given more than $100,000 to Children's of Alabama since the foundation's creation in 2001. In 2019, Children's of Alabama served families from every county in Alabama, including 173,434 children in the 17 Alabama counties included in the $1.67 billion, Montgomery, Ala.-based MAX Credit Union's chartered area. Through donations from organizations like MAX, Children's of Alabama can continue offering world-class pediatric health care in a compassionate environment that puts each child and their family at the center of their mission. The MAX4Kids Foundation is a non-profit organization that was created by MAX associates in 2001 as a way to give back to the communities MAX serves.
The $2.56 billion, Indianapolis-based Indiana Members Credit Union recently presented a check for $5,031 to the Ascension St. Vincent Foundation of Indianapolis as part of an ongoing debit card give back program. The partnership allows members to support the Ascension St. Vincent Foundation by signing up for and using an Ascension St. Vincent debit card. Every time the card is used as a signature-based transaction, the Ascension St. Vincent Foundation benefits. The card is available for issue to members at IMCU's 30 Indiana locations. The Ascension St. Vincent debit card is free to members with a free checking account and can be issued immediately via IMCU's Instant Issue program. Pictured from left to right are Jennifer Loepker, corporate sponsorships and events specialist for the Ascension St. Vincent Foundation; Thorpe Miller, vice president of business development and marketing for IMCU and Sara Homburg, director of annual giving, donor communications and events for the Ascension St. Vincent Foundation.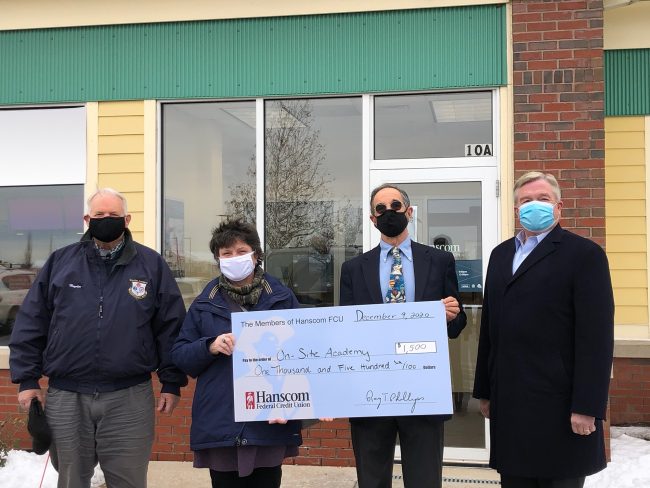 The board of directors for the $1.6 billion, Hanscom Air Force Base, Mass.-based Hanscom Federal Credit Union recently presented its annual Board Memorial Award to On-Site Academy, a short-term residential treatment center for returning veterans and first responders who need support due to the particularly stressful nature of their jobs. The $1,500 grant, which honors past and present Hanscom board members, is given annually to a volunteer group that serves the credit union's membership base. On-Site Academy provides specialized therapeutic services for returning veterans, police, firefighters, EMTs, paramedics and others experiencing the effects of traumatic incidents in the line of duty. Its facility in Westminster, Mass., provides a tranquil environment for these first responders to heal from the toll that witnessing the worst can take on them. Pictured from left to right are Hayden Duggan, president and founder of On-Site Academy; Valerie Duggan, director of On-Site Academy; Hanscom Chairman Ray T. Phillips and Hanscom President/CEO David Sprague.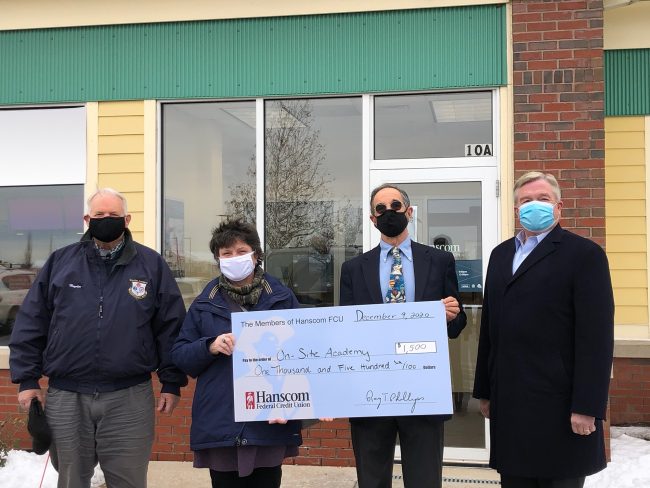 Please send your Community news items to Natasha Chilingerian at [email protected]