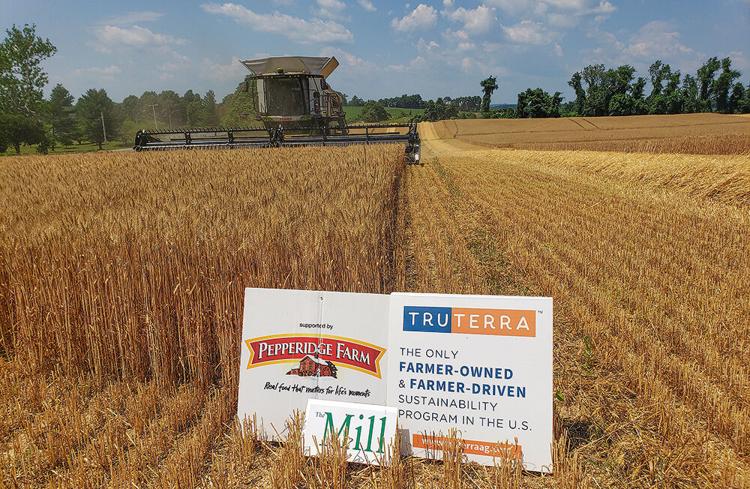 As local farmers and a representative of a local agricultural business, we rely on all of the natural resources the Chesapeake region provides to keep our livelihoods operating from year to year. Living and working in this vital watershed for generations, we focus a lot of attention on how each farming practice impacts soil and water health and what changes we can make on our land to improve the environment.
The health of the Bay has been significantly improving over time, but we know there is still more work to be done and we are committed to doing our part.
This is why we jumped at the chance to partner with Truterra, the sustainability business of Land O'Lakes and Campbell Soup Co., when they approached us about a project that uses an ag tech tool, the Truterra™ Insights Engine, to help farmers do even more to protect the health of the Bay. The Insights Engine is an interactive tool that allows farmers to measure and track the environmental impact of their fields and to "plug and play" different combinations of stewardship practices to identify options that maximize their return-on-investment while protecting soil and water resources. The Environmental Defense Fund was also part of building the original project structure.
We are now two years into the project and have some exciting results to share.
First off, the 10,000 acres of farmland in the Chesapeake region participating in the project showed near-zero net on-farm greenhouse gas emissions. For some acres, net emissions were negative, primarily driven by the greater adoption of cover crops (a crop grown for the protection and enrichment of the soil) and conservation tillage — a testament to the potential of farming practices to mitigate the impacts of climate change.
Nitrogen-use efficiency also improved between 2018 and 2019, which indicates that farmers participating in the project are optimizing crop yields while minimizing environmental risk. Using crop nutrients more efficiently can save farmers money and mitigate the risk of nutrient loss into the environment, a critical challenge in our region.
Another key insight was that sheet and rill erosion, which create movement in the topsoil, declined from one year to the next. This is a sign of strong soil health, which can be driven by practices we saw used on farms in the project. These included diverse crop rotations and an increase in acres using no-till management, which dramatically reduces soil disturbance.
As a farmer and ag retailer, having precise data like this about how each field is doing from both an environmental and economic perspective is new and exciting. Not only have the project and the Truterra platform given us a lot of new information that has helped "de-risk" adopting different conservation practices, they have also given us a platform to demonstrate the work we are doing to be good stewards of our land and our shared watershed, with the data to back it up. Campbell can also use this data to support their sustainability claims about their product sourcing, and we as farmers and ag retailers can use this data to attract more customers from food companies that want to meet the growing consumer demand for sustainably grown food.
Farming is in our family DNA and having young children makes it even more important to us to be good stewards of our land for future generations. We view protecting the Bay not only as a responsibility, but as a critical mission, a purpose.
Ultimately, this project and approaches like it will help us continue to expand the on-farm conservation efforts that are so personal to us here in the Bay region, while also making sure we are building stronger and more resilient farm businesses and leaving behind a healthy watershed that we can someday pass along to our children and, someday, their children.
Chesapeake Bay area farmers Zach and Greg Rose operate Clear Meadow Farm in White Hall, MD. Agricultural retailer Tim Hushon is with The Mill, based in Bel Air, MD.
The views expressed by opinion columnists are not necessarily those of the Bay Journal.